Scoliosis is visible in the close-fitting clothes. What should I wear?
To hide the defect, the most important thing to learn how to emphasize your merits. You can find a solution to stop wearing too tight blouses and sweaters, but still wearing a tight-fitting pants and skirts. So, in summer time you can wear a cotton T-shirts, free and wide at the top summer dresses,  for example, Continue reading →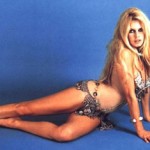 In the early twentieth century, it was indecent to show too much nudity on beaches. A century later the situation has changed …
In present days girls wear bikinis with pleasure – a tiny swim suit that had once made a revolution in beachwear fashion.
Your dressing table is replete with production to care for problem skin, but for some reason do not help. What's the matter?
It looks like you've become a victim of "insidious" cosmetics containing substances that contribute to clogging of sebaceous glands – comedones. Acnes and blackheads appear because of them. Sadly but true: most of cosmetics contain these substances. And only a few producers can proudly put on their product labeling "non comedogenic". "But why?" – You ask.
Because the using of these ingredients can reduce the cost of the production process and improve the appearance of products. Such cosmetics smells good, has a tender texture and well absorbed of the skin. But problems will appear later.
Spring is here – it's time to bring your feet to perfection. Today let's talk about the purity and beauty.
On your feet can form calluses and corns, skin can harden. And sometimes, especially during sport exercises, foot can sweat. So it is necessary to wash your feet daily with soap and water.
Additionally, you can make a pedicure. Remember that a pedicure is not just toenails painted by nail polish, but the big hygienic procedure.